The Nester
is hosting a 31 Days event in October, and I've decided to sign up! Yikes! 31 days of blogging about one subject?
For the month of October, I will post something everyday about finding harmony in your home, family, and life in general. I'll explain a little more when the event kicks off on Saturday. See you then!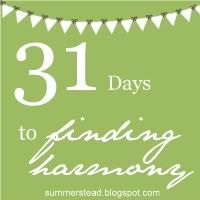 Feel free to grab a button so others can swing by!